AxioTrad provides you with professional interpreters in the language of your choice, regardless of your business sector.
Discover the interpreters of the AxioTrad specialist translation agency
Are you looking for a professional interpreter for
simultaneous interpretation
? Our experienced interpreters accompany you during your meetings, interviews, international conferences, seminars, etc.
Simultaneous, consecutive, whispered, liaison interpretation (interpreting)
… In Paris or elsewhere, our interpreters accurately repeat all your discussions and enable clear and transparent communication between you and your contacts. Our interpreters are passionate about their profession, using all their skills to give you the best communication.
Available in France and abroad
, they accompany you at
all your conferences and other events
. Read our page to discover the different types of interpreting depending on your needs, understand the job of an interpreter and please do not hesitate to request a
quote
.
Simultaneous interpretation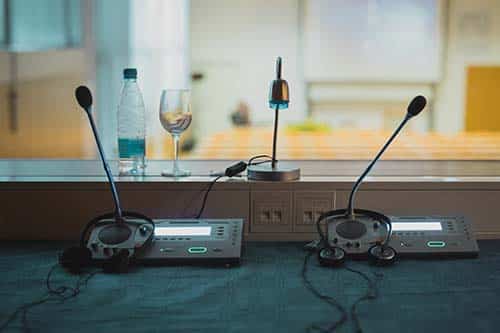 Simultaneous interpretation is the preferred solution for multilingual conferences, shareholders' meetings or international summits equipped with external booths. How does simultaneous interpretation actually work? When a speaker takes the floor, the interpreter translates all the sentences in real-time with a just few seconds delay. The interpreter is based in a soundproof booth with the interpreting equipment and, preferably, a direct view of the speakers. Participants hear the spoken translation through adjustable headphones in the language of their choice. The job of simultaneous interpretation requires very strong translating skills, a perfect command of the languages being interpreted and a high level of concentration. This is why interpreters generally work in relays every 20 to 30 minutes, so you should plan for teams of 2 to 3 people per language interpreted. Whatever your business sector, AxioTrad will select the most appropriate professionals for your event. Conference interpreters are selected according to their training, their experience and we favour individuals who interpret into their native language in order to deliver a flawless service. If you do not have the necessary equipment and need to hire it for the duration of your event, AxioTrad will supply this through its trusted partner. Examples where simultaneous interpretation is preferred:
Multilingual conferences
Bilateral meetings
International summits
Large company meetings or shareholders's meetings
Scientific, technical or medical conferences
Consecutive interpretation
For small group discussions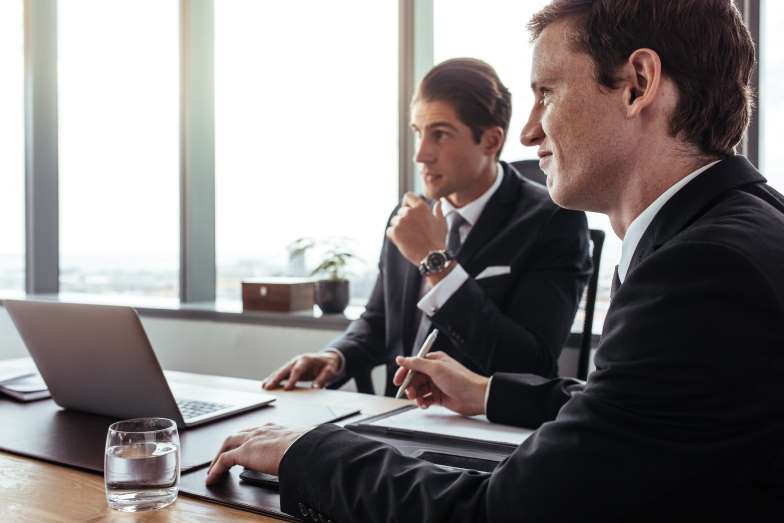 Consecutive interpretation is an interpreting technique recommended for smaller or official or diplomatic meetings, for example. The principle of consecutive interpretation is to take notes in order to capture the meaning of the discussion before repeating it. In practical terms, consecutive interpretation works as follows: while a speaker expresses themselves in the source language, the interpreter takes notes enabling them to capture the salient points and gain an outline of what is being said.  This enables them to preserve the essence of the speech before reproducing it in the target language. The work of the interpreter is not therefore limited to understanding the speech, but also memorising the overall meaning of the message. Consecutive interpretation therefore allows the speaker to talk for longer since the interpreter only repeats the translation after they have finished speaking. Examples where consecutive interpretation is preferred:
Small meetings
Diplomatic meetings
Any context where the speaker takes the floor to express ideas for a few minutes before the interpreter relays the translated message. The interpreter generally sits next to the speaker.
For appointments to sign agreements or meetings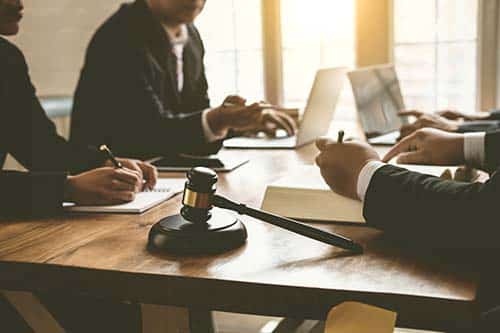 In the context of liaison interpreting, the speaker says a few sentences in the source language which the interpreter memorises, then translates into the target language. It is an interpretation method particularly favoured in:
The legal sector, particularly with solicitors (sales, bequests, marriages, etc.)
The business sector: sales negotiations
The tourism industry: guided tours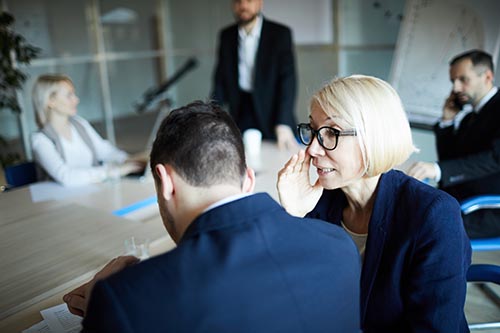 Whispered interpretation or chuchotage is similar to simultaneous interpretation, it takes place when only one or two people need an oral translation, while the rest of the audience does not. The interpreter sits or stands next to the listener and whispers the translation of the speaker's words almost simultaneously. Unlike simultaneous interpretation, the interpreter does not need any equipment such as headsets or microphones. Consequently, whispered interpreting should ideally take place in a quiet environment with a limited number of participants. Context where whispered interpreting is recommended:
Small group meetings in a quiet environment. Depending on the length of the meeting, a second interpreter may be needed to take over.
Telephone or video conference interpretation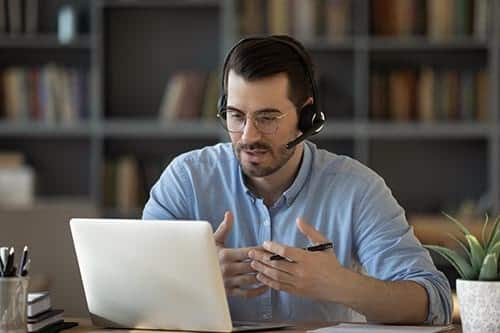 Telephone interpretation allows exchanges between two parties who do not speak the same language and may well be in different countries. The interpreter takes part in the telephone conversation or the video conference, alongside their customer or remotely. In principle, this type of interpreting is similar to liaison interpreting, since the interpreter provides an interpretation in the target language after the speaker has spoken a few sentences. The field of application for remote telephone or video conference interpreting is very broad and lends itself particularly to:
International trade relations, simple negotiations
Supplier relations
The associative sector
Etc.
Albanian
German
Amharic
English UK
English US
Arabic
Bengali
Bosnian
Brazilian
Bulgarian
Cambodian
Chinese
Sinhalese
Korean
Croat
Danish
Dari
Jahanka
Spanish
Estonian
Finnish
Flemish
French
Gaelic (Irish)
Georgian
Greek
Hebrew
Hindi
Hungarian
Indonesian
Italian
Japanese
Khmer
Latvian
Lithuanian
Macedonian
Malay
Moldovan
Dutch
Norwegian
Urdu
Pashto
Punjabi
Persian
Polish
Portuguese
Romanian
Russian
Serbian
Slovak
Slovenian
Somali
Swedish
Swahili
Tama
Tamil
Czech
Thai
Tigrinya
Turkish
Ukrainian
Vietnamese
The language you want isn't on the list? 
Genuine knowledge of the profession
Whatever your business sector, we assign the most appropriate translator. The person we select will be proficient in your core business. They will be able to translate your documents while respecting their technical nature. At AxioTrad, we're not afraid of complexity.
AxioTrad scrupulously observes the confidentiality of your documents to be translated and your meetings when providing interpretation services. AxioTrad will treat the files you send in the strictest confidence and solely for internal use.
Our translators are known for their language skills. They will support your company across all digital formats. In France or internationally, they will adapt to all your projects in the language of your choice.
Technical information, legal documents, websites, marketing literature… Our translation agency uses the best professionals for a flawless job. Our selected translators combine language skills with genuine industry knowledge. 
At AxioTrad, we know how valuable your time is, which is why we make it a priority to comply with your schedule. Our translators adapt to your requirements. They will produce perfectly translated texts within the shortest possible delivery times.